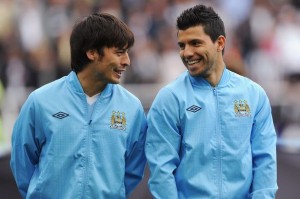 Manchester City of Yaya Toure has just released the return in force of the Spaniard David Silva and the  Argentinean striker Sergio Aguero to face the German champion club, Bayern Munich tonight.
Both players were not present during the 3-2 defeat of Yaya Toure and co to Aston Villa last Saturday. They were shelved for different reasons.
The spaniard was off due to a thigh injury whereas the Argentinian relied on a slight knock to get a rest.
The two men will surely worry Bayern Munich tonight!