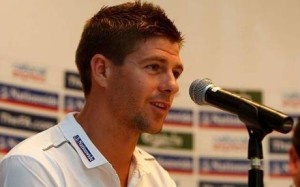 England's captain of Liverpool Steven Gerrard, after having expressed happiness with the return to the manager Roy Hodgson squad of Wayne Rooney and Daniel Sturridge ahead of Brazil World Cup 2014 against Montenegro and Poland, is now praising the quality of Manchester City keeper of England.
The Whiston-born 33-year-old player just told Sky Sports News:
"Being in form, being out of form – it happens but Joe has set such high standards and put in world-class performances that people expect that all the time which is impossible," Gerrard said.
"At the moment he is going through a bit of a tough time, but he has got the character and ability to play his way through it, for me when I have Joe Hart behind me I feel safe.
"I feel good and for me I just want to echo what the manager said and back him and I have no doubt Joe Hart is a top keeper and I hope he is behind me for the next two games."