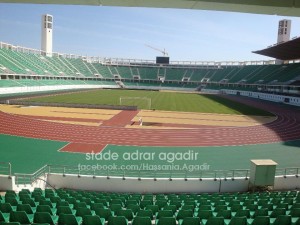 Tickets for the 45 480-seater new Agadir Stadium have been sold out ahead of Friday's friendly international clash between Morocco and South Africa scheduled to kick off at 21h00 SA time.
Agadir has been built for the 2015 Africa Cup of Nations tournament which Morocco will host. This is the first time the brand new stadium will be utilized. It will also host four matches of the 2013 FIFA Club World Cup in December this year.
The multi-purpose stadium will mainly be used for football and will be home to local club Hassania Union Sportive of Agadir (HUSA), who have been using Stade Al Inbiaat where Bafana Bafana trained on Wednesday afternoon.
Hassania is an emerging football powerhouse in Morocco, and have twice won the Moroccan league title.
The state-of-the-art stadium can house 5000 VIP personnel and has 288 media seats, four locker rooms complete with sauna as well as eight athletics locker rooms.
Agadir itself is a major city in the southwest of Morocco and is the capital of Agadir-Ida Ou Tanane.
The city is located on the shore of the Atlantic Ocean, near the foot of the Atlas Mountains.
The city of Agadir together with the neighbouring cities of Inezgane and Ait Melloul were estimated in 2013 to have 609,088 inhabitants.
Agadir is one of the major urban centres of Morocco, the seventh largest extended urban area of the country after Casablanca, Rabat, Fez, Marrakech, Meknes, and Tangier.
The city has been completely rebuilt after an earthquake destroyed it in 1960, which claimed the lives of an estimated 15-thousand people.
Agadir is now the largest seaside resort in Morocco, where foreign tourists and many residents are attracted by an unusually mild year-round climate.
Source: Safa.net