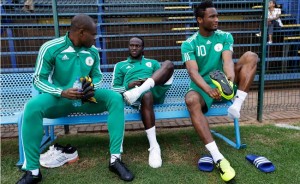 catoAfrica Top Sports was told you that the Nigerian international midfielder Victor Moses of Chelsea and four other foreign-based players such as Shola Ameobi, Nosa Igiebor, Emmanuel Emenike and Brown Idey all missed the Super Eagles' first training sesssion ahead of Saturday's World Cup qualifying play-off against Ethiopia in Addis Ababa.
For the players to catch up the missing session, Assistant coach Daniel Amokachi therefore did some extra conditioning with them yesterday (October 9).
"We had them run a few extra laps and do a little more conditioning to bring them to the same level as the others, since they missed the first day of training," a team official told KickOffNigeria.com.
"But we are happy everybody is fit and in shape and we have no injury worries."
All 23 players trained on Wednesday afternoon at the National Stadium in Abuja.