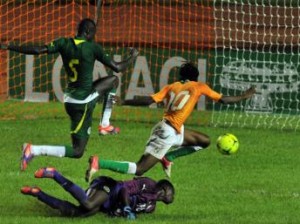 "Where is the false magic-maker who said he forgave the lions? He told the Senegalese that he was the source of previous defeats. Now he just has to keep his mouth shut."This reaction of a Senegalese support at the end of the match Ivory Coast-Senegal resulted in the overwhelming victory of the Elephants (3-1), illustrates the heat of the anger of Senegalese who thought they could take their revenge on Ivory Coast.
After every defeat, disgruntled fans seek scapegoats to shoulder responsibilities. "Please Giresse ! More Diame", said a raged fan.
For others it is a disaster. "I am ashamed. Pope ndiaye Souaré , diamé, sow , gassama and Sane frankly it's disappointing , "said Malou worn by the performance of Lions.
The less optimistic who no longer believe in chances of qualification of Senegal prey on their tormentor of the day. " Drogba and co will not win anything in the world cup even an African Cup," prophesies a Senegalese fan.