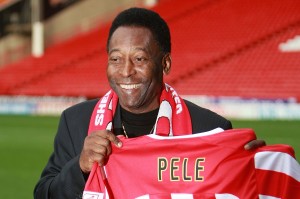 Priced at around R16 000, Pele released a book entitled "1283" that chronicles his career with over 500 pictures with each copy autographed by the player.
The title of the book refers to the number of goals he scored in his career.
The 72 years-old unveiled the work at the Museum of Image and Sound in Sao Paulo on Wednesday.
"Looking through of all those images was a very emotional moment for me, because it made me think of all the people that loved and supported me throughout my career: my family, friends, team-mates and the fans." Can we read on his twitter account.
New York, London and Dubai are the next destinations for the launch of the book which has 1283 copies that will be available on Monday in selected stores.