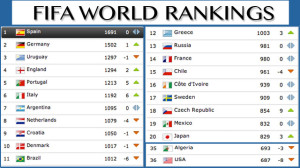 Ivory Coast is still the leader in Africa after the ranking of October updated by FIFA.
The Elephants won two seats and are now the 17th worldwide with 917points.
Ghana maintains its second place in Africa and win one seat to rank 25th worldwide with 860 points.
Algeria, Nigeria and Mali which are respectively 32nd, 33rd, and 41st close the top 5.
7th in Africa, Tunisia is 47th worldwide.
Togo gained two seats in the new rankings released by FIFA on Thursday for the month of October. The hawks are now 17th in Africa and 73rd worldwide.
Ethiopia is not included in the top 20. Walya Antelopes are 25th in Africa and 95th worldwide.
Here is the African Top 20
1-Ivory Coast (17th)
2-Ghana (23rd)
3-Algeria (32nd)
4-Nigeria (33rd)
5-Mali (41st)
6-Cape Verde (42nd)
7-Tunisia (47th)
8-Egypt (51st)
9-Burkina Faso (52nd)
10-Cameroon (59th)
11-Libya (61st)
12-South Africa (61st)
13-Senegal (64th)
14-Zambia (67th)
15-Guinea (68th)
16-Sierra Leone (73th)
17-Togo (75th)
18-Morocco (77th)
19-Gabon (84th)
20-Uganda (85th)