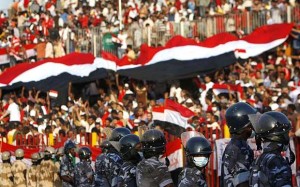 Egypt stands a risk of playing the second leg of the 2014 World cup play-off outside their country as a car bomb exploded in the the country targeting the police and the military. with just about
eight days left for the deadline of security guarantee from Egypt as ordered by FIFA
, violence look to be on rise in the North African country.
The assaults, though still apparently uncoordinated, are increasingly brazen and sophisticated, raising fears of an insurgency that could plunge Egypt into turmoil just 2 ½ years after its pro-democracy uprising. Saturday's powerful bomb exploded outside the local military intelligence headquarters and next to a busy square near Ismailia's downtown, sending black clouds of smoke into the air and burning several other cars nearby.
 It will be a big blow to Egypt dream to the 2014 World cup if FIFA allows the match to be played outside the North African country. The North Africans were thrashed by 6-1 in the first leg in Kumasi and will need a 5-0 win to earn a ticket to the 2014 World cup.