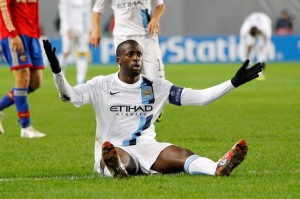 Manchester City midfielder Yaya Toure is "furious" and wants Uefa to act on racist chanting after claiming he was targeted by home fans during 
his side's 2-1 victory at CSKA Moscow.
The Ivory Coast international said he told referee Ovidiu Hategan about the chants as City came from behind to win the Champions League Group D tie.
City, for whom Sergio Aguero scored twice, will make a complaint to Uefa. Toure said: "I'm not just disappointed, I'm furious." "There have been fairly high-profile instances down the years. I can remember a set of fans waving a banana at Roberto Carlos when he played in Russia. Peter Odemwingie, when he joined WBA, had some fairly horrendous stories of playing in Russia. Christopher Samba was another one who was targeted. The great point Yaya Toure made was that this a country that is going to be hosting the World Cup, the pinnacle of all football events, in 2018 and yet the problem doesn't seem to be getting any better."
The 30-year-old captained City in the absence of injured defender Vincent Kompany. He added: "I'm very, very disappointed about what those fans have done. I think Uefa has to take action because players with the same colour of skin will always be in the same position. "For me, as captain, I was wearing an armband which said 'no to racism' and I was totally disappointed. "I told the referee. It was unbelievable and very sad."
Asked what action he would like the European governing body to take, Toure said: "Maybe they could ban the stadium, I don't know, for a couple of years or a couple of months.
"We have to be as strong as possible otherwise they will continue like that. Too much is too much. We have to stop it now."
In May, Uefa announced that for 
racist incidents involving spectators,
 a partial stadium closure for the first offence and a full stadium closure for a second, coupled with a fine of 50,000 euros (£42,800), would be applied.
Toure added: "It's not only in Eastern Europe and I have some friends who have had problems, too.
"It's stupid. It just happens in football. As an African player, it is always sad when you hear something like that."