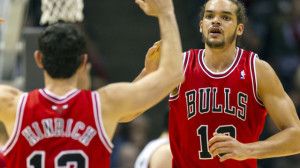 Center Joakim Noah, after practice Sunday, pegged his chances at "100 percent" of facing Miami Tuesday in the teams' opener and guard Kirk Hinrich said he too was confident of playing, it had a don't-anybody-sneeze feel to it.
Noah had made just one preseason appearance after slipping in practice and suffering a groin strain early in camp. Several days earlier, both he and Hinrich seemed like longshots at best to face the Heat, from listening to coach Tom Thibodeau. But Noah told reporters at the team's practice facility Sunday that missing the final tune-up against Denver Friday was a precaution only.
As competitive as he is, and as aware of the inevitability of getting through the two-time defending champs if his team hopes to chase a title, Noah figured to be straining at the leash if he had to sit out.