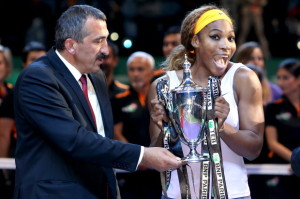 The American N°1-ranked female tennis player Serena Williams confirmed supremacy by beating China's N°3-ranked Li Na with 2-6 6-3 6-0 to keep the WTA Championships title.
After losing the opening set to the Chinese icon, Williams, 32, levelled the match and clinched her 11th title of the year in two hours and nine minutes.
It was her fourth WTA Championships success and she is the first player to defend the title since Justine Henin in 2007.
She is the eighth female player to win 11 or more titles in a year and the first since Martina Hingis claimed 12 in 1997.
Williams said lifting the Billie Jean King trophy had a special significance at the end of the year when the WTA has celebrated its 40th anniversary.
"It was an awesome year of tennis. To end with the Billie Jean King trophy after 40 years and after everything we had the celebration for this year, I don't know if it's written or what, but it's just really exciting," she said.