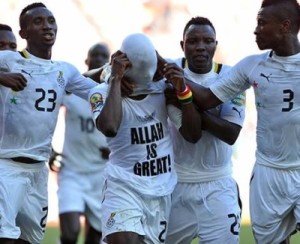 Ghana's stunning 6-1 victory against Egypt in Africa's 2014 FIFA World Cup Brazil play-offs was a result that not even the most ardent Black Stars fans would have dreamt of, so in honour of that remarkable scoreline, FIFA.com looks back at some of the other qualifying matches that took the world by surprise.
Chile 1962 – UEFA qualifying, Group 6
Luxembourg 4-2 Portugal, 8 October, 1961
Nearing their international heyday of the mid-1960s, the Portuguese were built around Benfica stars like Eusebio, Jose Aguas and Mario Coluna, and they were expected to challenge England for the group and a first qualification at the World Cup. But the Iberians were stunned by little Luxembourg, who rode Adolphe Schmit's hat-trick to their first-ever qualifying win after 17 straight defeats. The underdogs had lost their three previous group matches by the combined score of 19-1, and these points are the only ones they have ever taken from the Portuguese in eight World Cup qualifying matches.
USA 1994 – UEFA qualifying, Group 6
France 2-3 Israel, 13 October, 1993
France 1-2 Bulgaria, 17 November, 1993
With just two home matches remaining in a group they had up-until-then dominated, Les Bleus proceeded to lose both USA 94 qualifiers at the death to the amazement of the watching world. With a four-point cushion ahead of Sweden and five on Bulgaria, a win against Israel would have qualified them, but two Israeli goals in the last seven minutes set up a pressure-filled last match against the Eastern Europeans. With just moments remaining in that finale and the score at 1-1, David Ginola gave the ball away with an infamous cross. The eventual World Cup semi-finalists drove the length of the pitch, and Emil Kostadinov's stunning break-away strike broke French hearts in one of the most dramatic qualifying finishes ever. Afterward, Bulgarian legend Hristo Stoichkov had no mercy for the stunned hosts, saying: "They played for a draw and never went looking for a win. They didn't deserve to qualify."
USA 1994 – CONMEBOL qualifying, Group 1
Argentina 0-5 Colombia, 5 September, 1993
Argentina's biggest-ever home defeat in a World Cup qualifier came at the hands of Colombia, who made themselves dark horse picks – most famously by Pele – to make a big impact at the finals after this shocking victory in Buenos Aires. Had Paraguay beaten Peru in their match played on the same day, Argentina would have failed to even make it to the Intercontinental play-off, which they went on to win against Australia. A scorer on the day, Colombia's Adolfo Valencia recently told FIFA.com about the surprise and significance of the result. "Let's face it, we could play that game a 100 times over and never get that result again. That 5-0 win won't just go down in Colombia's history; it'll go down in the history of world football too."
USA 1994 – CONMEBOL qualifying, Group 2
Bolivia 2-0 Brazil, 25 July, 1993
Going into their game against Bolivia, which was played at altitude in La Paz, A Seleção had never lost a World Cup qualifier, winning 24 and drawing seven. But goals in the final minutes by Marco Etcheverry and Alvaro Pena gave the home side a historic win and ensured a terrible start for Brazil, who picked up just a point from their two opening matches. Of course, the Brazilians recovered and went on to not only qualify for the finals but to win their fourth World Cup title in the United States a year later.
Korea Republic/Japan 2002 – UEFA qualifying, Group 9
Germany 1-5 England, 1 September, 2001
After Germany beat England in the final international played in the old Wembley Stadium earlier in qualifying, the Three Lions still had a score to settle with Die Mannschaft. The Germans not only had had the best of the historical battle between the two since the England 66 Final, but they led the group by six points and would have secured direct qualification for the finals with a win. However, England played one of their most inspired international matches, and they overcame Carsten Jancker's early goal in Munich through a Michael Owen hat-trick, plus further strikes from Steven Gerrard and Emile Heskey. England went on to top the group, although the Germans had the last laugh by finishing second in the first Asian finals.
Korea Republic/Japan 2002 – OFC qualifying, Group 1
Australia 31-0 American Samoa, 11 April, 2001
A big-scoring win was always going to be on the cards for Australia, but nobody could have expected the Socceroos to bulge the net at a rate of one goal every three minutes. A young team with a 15-year-old in their starting line-up, the Samoans could take cold comfort from the fact that the high-flying Aussies scored double figures twice more in the campaign. The 31-0 scoreline remains the biggest-ever in a World Cup qualifier, and Archie Thompson's 13 goals are an individual international record.
Others
There are, of course, many other results that have surprised and stunned football fans worldwide, like Jan Tomaszewski's stunning display in goal for Poland in the 1-1 draw at Wembley that denied England a place at the 1974 finals. Also in 1973, Trinidad and Tobago thrashed Mexico 4-0, allowing Haiti to grab CONCACAF's place at the finals. Other significant results by minnows include Cyprus' 1-1 draw with France that kept Les Bleus out of Italy 90, Djibouti's shock 1-1 draw with Congo DR in their first-ever qualifier in 2001 and Maldives' scoreless result against Korea Republic on the road to Germany 2006.