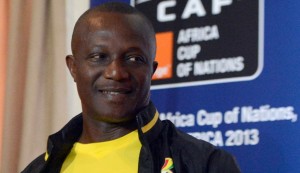 Spokesperson for the Ghana Football Association Sannie Daara has told Ghana Sports that the Head Coach of the senior national team, Kwesi Appiah, was not stunned by rumors that he will be sacked after qualifying the Black Stars for the 2014 FIFA World Cup in Brazil.
Sannie's comment comes days after rumours went around that the GFA is in negotiations with German Klaus Toppmoller to superintend the Black Stars technical team.
Sannie dismissed the rumours, saying there can be no truth whatsoever in that claim.
"Absolutely rubbish, I won't even wait for you to ask me that question. I know where and what you're going to ask," he said.
"When you put such report out there, what it does is to destabilize the team [forcing] the players to think about who is going to be the next coach, in a time that Ghana want to go to Brazil," Sannie blurted out.
The former BBC Sports Producer called for responsible reportage among the media. 
Daily Graphic broke the news that Appiah will leave the Black Stars for Toppmoller. 
The FA spokesperson said such reports are not surprising since similar were circulated when he (Kwesi Appiah) was appointed to head the senior national team. 
"I call for responsible reporting. Sometimes, when you get firsthand information about such stories, just do what we call cross checking".