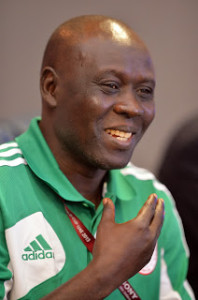 Coach Manu Garba of the Golden Eaglets of Nigeria commends the attacking prowess of his troupe which thrashed Iran (4-1) in the second round of the Fifa U-17 World Cup on Tuesday.
The hollow score of the meeting was the achievements of Samuel Okon, Kelechi Iheanacho –in the viewfinder of Arsenal-, Musa Muhammed and Musa Yahaya who showed Iranians that football is West-African.
"I said earlier that my attack is blistering, and I still maintain that it will be difficult for any team to stop us from scoring because our team love scoring goals," Manu said at the post-match press conference.
But the Nigerian coach admits the performance of his nuggets are not beyond reproach and expects to see mistakes corrected as the competition goes on.
"We don't pretend we are an attacking team, though there are still a few errors. But we are going to correct them as we go further in the competition."