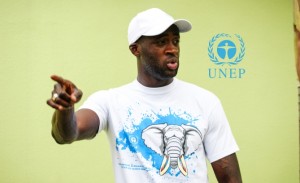 An Elephant rescues Elephants! This is normal!
Yaya Touré is committed to the survival of elephants
The Ivorian footballer Yaya Toure of Manchester City star, stood up Tuesday against the killing of elephants, arguing that the existence of this animal was threatened.
"Poaching threatens the very existence of African elephants, and if we do not act we will go to a future where this iconic species will be gone," told reporters Toure, star of the Ivorian national team and the British team Manchester City, who was Tuesday named ambassador for the program of the United Nations Environment Programme (UNEP).
"The national team in Ivory Coast is called 'Elephants' in tribute to these magnificent creatures, so powerful and graceful. Already in my country, there would remain not more than 800, " Toure added.