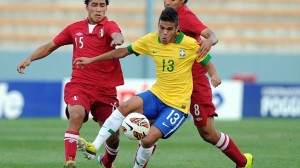 World Cup U-17 2013 is currently in full swing in the United Arab Emirates. A competition that saw differing performances from little stars from 24 countries around the globe. The last stage of this tournament promises to be much more interesting as all the nuggets there in Al Ain wish to be crowned the trophy.
As a proof Africa Top Sports just reported a few minutes ago the optimistic and ambitional statement of Sweden's Valmir Berisha who wholeheartedly believes he will go far in the competion. It is not then surprising to hear another competitor like Brazil's Kenedy expressing his desire to lift the trophy also eagerly sought by Nigerians who ran over Iran 4-1 for their ticket to the quarters.
"I want to score a goal, win the next game, and from there go on to lift the title, " Kenedy told Fifa.com.
Brazil thrashed Russia 3-1 to qualify for the quarter-finals. Kenedy and co will then have to breakthrough Mexico's obstacle on November 1st to get a little closer to the trophy he wants to lift.