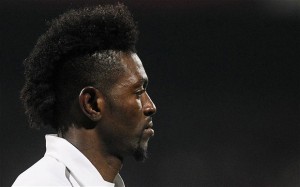 Silent since the end of the transfer window and his final decision to stay at Tottenham despite the competition introduced by Andre Villas-Boas, Emmanuel Adebayor gave a long interview to The Sun on Sunday. He tells us about his difficult time at Spurs but does not give up.
"I tried to keep confidence in myself, but I cannot fall lower. If I go down, then it means I'm dead. What I found difficult was not to train with the youth, but to see the physio coming to tell me that I was going to train with the youth. I found it hard, "said the Togolese international. A treatment that does not please all fans of the player.
"I'm not going anywhere"
When we thought he had hit rock bottom and could think of a departure next January, the former Gunner is adamant: "I still have three years of contract here, I'm not going anywhere. I am fully committed, my fitness level is coming back, and I still have things to do here. "His comments make the buzz on the web and impress some Tottenham fans at fair value.
For now, the designated substitute of Adebayor had trouble convincing fans. Soldado has scored four goals but three penalties which earned him some nicknames on the web (Penaldado). For his part, Andre Villas-Boas seems not making concessions to offer a new chance to the former Real Madrid striker. Last Wednesday, his shelving of the Cup match made people wonder.
Adebayor signed with Tottenham in 2012 for 6 million Euros from Manchester City. A disappointing season with only five league goals. Yet the previous season on loan, he was the top scorer with 18 goals in 37 matches in all competitions.