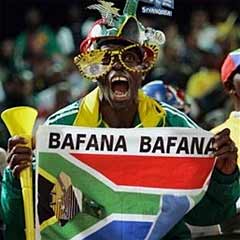 The Bafana Bafana team selected to play the world champions will be announced at a press conference in Johannesburg tomorrow.
World and European champions Spain will take on South Africa at the FNB Stadium in Johannesburg on November 19.
Danny Jordaan, the newly-elected president of SAFA, whose lobbying made the game possible said it will be a milestone for Bafana Bafana to be playing the best in the world.
"Every South African knows that Bafana Bafana has been underperforming. Well, we have a master plan that is going to change that, starting with Spain," he said.
Jordaan said that competition for places is fierce. "They all want to be part of the team because to play the world champions is a massive opportunity, particularly in a game that is going to be televised live throughout Europe. This game will be one where reputations can be made overnight."
Jordaan refused to speculate about the team selection. "I will say though, that in soccer you must always be prepared for a surprise."