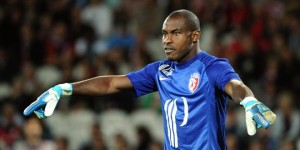 Africa Top sports reported on the sparkling performance of Nigeria's goalkeeper Vincent Enyeama of French Ligue 1 Lille.
His great involvement in Lille's 2-0 win over Monaco earned him a fame in France. Even Captain Rio Mavuba of the French club could help calling him the "Jesus of their side".
Questioned about his current performance, the reigning Africa champion goalkeeper admits that he is not absolute master of his feat. He nevertheless deflects the praise to the almighty God who according to the Super Eagle is responsible for his deeds.
"What I'm passing through is not of my own making. For me, it is not about Enyeama. I just wished to be able to help my team succeed. That's always been my dream and God is helping me to achieve that dream, " he said.
Enyeama moreover said he has a great team in front that is doing a fantastic job.
"I didn't go out to get it. I have a great team in front of me and they are doing a fantastic job, and that makes my own job easier, "