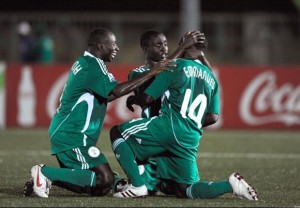 Coach of Sweden's Under-17 team, Roland Larsson who could not stand against Nigeria's blistering attack in Tuesday's semi-final admits the men of Garba Manu are favorites the trophies of the World Cup U-17 currently in full swing in United Arab Emirates.
Golden Eaglets stunned Larsson with their 3-0 win over his side and is convinced they will outscore Mexico (defending champions) and rally West Africa with their record fourth title after Friday's final.
"I think they are the favourites to win the trophy," Larsson told a correspondent of Vanguard in the UAE.
"They have been so unbelievable here playing some good attacking football, they are my favourites to win the Final and hope they achieve all the success they can get because they deserve it.
"I believe the Nigerians are the world champions already and expect them to justify it having defeated Mexico once in the group stage."