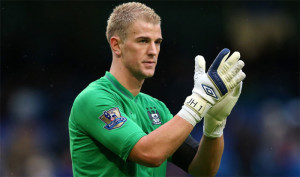 Manchester City's shelving of England's goalkeeper Joe Hart during their last three games does not influence the place of the Shrewsbury-born in the squad of Coach Roy Hodgson of England for their friendlies against Chile and Germany later this month.
The England manager has stated that Hart will start one game and either Celtic's Fraser Forster or Norwich keeper John Ruddy will take the gloves in the other.
"Joe will start one of the two games, but I don't think he will start both because I feel it's important for me to look at one of the other two keepers, possibly both, I haven't decided yet. But Joe is still our No 1 goalkeeper, " Hodgson said.