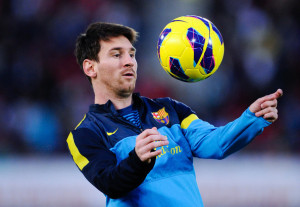 Manchester City striker Alvaro Negredo believes Lionel Messi could be tempted to come to the Premier League if he gets bored of life in the Primera Division.
Just like other great players such as Sergio Aguero, Yaya Toure and Mesut Ozil who left Spain for England in recent years, Negredo who has enjoyed a fine start to life in England since his summer move to City from Sevilla wholeheartedly believes the World's four-time top player will be subject to the same fate in the years to come.
Asked about the matter, Negredo responded:
"I suppose so, it could happen, " he dropped confidently before adding."Maybe in two or five years he will get bored with La Liga, want a change and come over here".