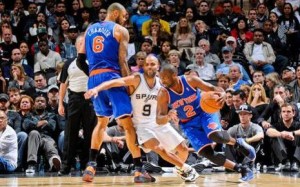 The NBA Spurs of San Antonio are hosting the New York Knicks tonight (Sunday).
While coach Mike Woodson of the Knicks will start with his small lineup of Raymond Felton, Pablo Prigioni, Iman Shumpert, Carmelo Anthony and Andrea Bargnani, Spurs Coach Gregg Popovich starts with Tony Parker, Marco Belinelli, Danny Green, Tim Duncan and Tiago Splitter.
Woodson said both Kenyon Martin and Amar'e Stoudemire would be available off the bench.
Spurs forward Matt Bonner is out following a left calf tightness.