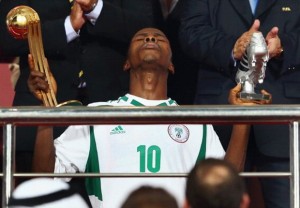 Nigeria won the trophy for the World Cup U 17 which just ended in the UAE by beating the defending champion, Mexico (3-0).
The Golden Eagles have splashed the competition with their talent. The young Kelechi Iheanacho second leading scorer was named best player of the tournament with six goals and seven assists. After the final, he confided his joy to our colleagues from Fifa.com and especially his elder , Nwankwo Kanu .
"It's great, great, great! I thank God to know this happiness. I do not know if I can find the words to say how I feel exactly. I feel a million things at once. I feel a lot of love for my partners, my family and my country. All this is in me. I just won the World Cup and the Ballon d'Or. I'm on cloud nine. "
The top scorer in the selection wants to keep in memory the country that hosted the competition.
"I will keep fond memories of my visit to the UAE. It is a wonderful country. With my teammates, we had the amazing opportunity to discover a new country and show people here what we are capable of on a football field. I will never forget. "