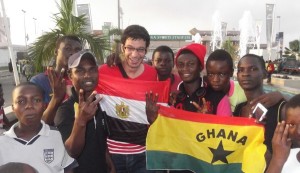 This is just a proof of the priority of security over fans in Saturday's clash between Ghana and Egypt counting for World Cup Brazil 2014 playoffs' return leg.
The Air Defense Stadium of Cairo will be filled up on Saturday but only 10, 000 will be fans.
The 20, 000 remaing capacity will be reserved for security personnel on duty.
Having assisted to clashes between Al Ahly fans and the police on Sunday ahead of the CAF Champions League final between Orlando Pirates and Al Ahly, Authorities do not want to avoid any incident at all cost.
FIFA General Secretary Jerome Valcke wrote in a letter to the Ghana FA that permanent police escorts for players and officials, and "sufficient" security at team hotels and at training sessions.
"The security plan has been designed in order to ensure total protection for all the delegations (Ghana, Egypt and Fifa) from arrival up to departure," Valcke wrote in his letter, according to the GFA.