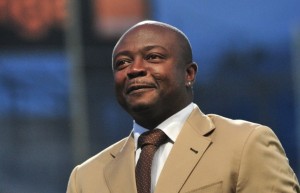 Being member of Ghana's delegation which met FIFA General Secretary Jerome Valcke in Lome, Togo on Monday, Ghana football legend Abedi Ayew Pele says they will do their utmost to secure safe journey to Black Stars in Cairo, Egypt.
The three-time African footballer of the Year whose two sons are in the Ghana squad for the decisive tie, may well fight for the safety of players in the Egyptian capital.
"Everybody should be relaxed about it. The FA boss and the minister are doing all they can to ensure that player and fans are safe," the ex-Ghana captain said.
"The measures have not been completed it is an ongoing process but rest assured everything is being done to make sure all parties will be safe.
"For now we have been able to push FIFA to agree that for now the game will be held in Egypt, but as times go by if anything comes up and they realize that the security arrangements are not adequate, if the slightest hint of doubt arises they will call off the match."
Ghana will travel to Cairo to face Egypt on November 19 as part of the World Cup Brazil playoffs' second leg tie whose first leg turned to the advantage of Black Stars 6-1.