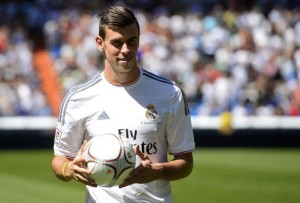 The Welsh forward Gareth Bale who has shown glimpses of his talent, notching three goals and five assists in seven La Liga appearances for Carlo Ancelotti's troops, insists there is more to come in the coming weeks.
"The best is yet to come," he told Real Madrid TV."Now I'll be able to score more goals and help the team achieve success. It was just a matter of time until I got to 100 per cent. Now everyone is seeing what I can do.I need to keep working and hopefully there will be more goals."
The player transfered to Real Madrid in a world-record €100million summer switch from Tottenham could not help hailing Real's super striker Cristiano Ronaldo who notched another hat-trick in their Saturday's 5-1 win over Real Sociedad to take his season haul to 24 goals in 17 games in all competitions.
"Cristiano is incredible, he scores hat-tricks every week," said Bale. "It's a pleasure to play with him."