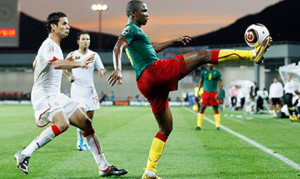 After Nigeria and Ivory Coast Saturday, another qualifying appointment for the 2014 World Cup awaits the African continent. This Sunday, Cameroon hosts Tunisia in Yaounde for another big shock of the play-off.
In Cameroon, things are always alright. If Samuel Eto'o has sparked a new controversy earlier this week denouncing a plot of his teammates against him, things are back to normal since. workouts are going well in a festive atmosphere and on Saturday , the protagonists have made peace.
Tunisia to be decisive outside
The score of the match does not put the Carthage Eagles in the best positions. Held in check at home with a 0-0 draw, Tunisia needs only a draw with goals to qualify. With several absentees (Khazri, Yahia, Abdennour), Coach Ruud Krol has also had to make choices. Especially not to convene strategists Mskani, Darragi, etc. . . .
Moreover it is only Friday before the departure of the team that two players Fabien Camus and Stephane Nater got their naturalization. They can probably help. Finally, hopes the Dutch coach.
Cameroon – Tunisia, kickoff at 14h GMT.