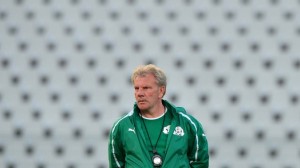 Runners-up during the recent African Cup of Nations in South Africa, football fans were expecting the Stallions of Burkina Faso to qualify for the 2014 Fifa Brazil World Cup to make proof of their sudden football renaissance in front of the whole world.
If the West Africans could face Algeria and inflict a 3-2 loss to the North Africans in the first leg tie at home, Africa Top Sports is sorry to inform their fans that they could not stand up tall and clinch their first ever World Cup qualification in Blida.
The men of manager Paul Put proved weakness since the first half time when they conceded a deceiving goal.
The Fennecs strengthened by their goal, continued stunning Stallions with a number of missed opportunities.
Burkina could not pull out the goal till the final whistle. Final score 1-0.
Algeria will be the only North African force in Brazil after that Ghana had confirmed the elimination of Egypt with an aggregate 7-3 at the Air Defense Stadium in Cairo.