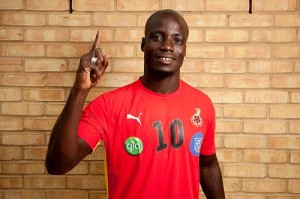 Former Black Stars captain Stephen Appiah has appealed to the Ghana FA and all Ghanaians to appreciate the local coaches in Ghana.Stephen Appiah who led the Black Stars to the first world cup in Germany believe that Ghana have talented football coaches who can deliver excellently when given the needed support.
"I have always said that Ghana have talented and experience coaches,if the Ghana FA believe Kwesi Appiah needs help,then that help must come from a local coach,there are more experience coaches in the country who can give technical support,lets believe in our coaches because Kwesi Appiah have proved that local coaches can deliver", Appiah said.
"If Kwesi Appiah ask for help,then it must be a local coach but if he (Kwesi Appiah) do not ask,lets give him the needed support". Kwesi Appiah is the first local coach to lead the Black Stars to the world cup.