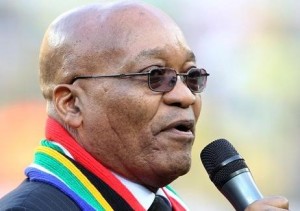 The South African State President is a real football fan!
According to the official website of the South African Football Association, President of the Republic of South Africa, Jacob Zuma has congratulated Bafana Bafana after their famous 1-0 victory over Spain in an international friendly match played at Soccer City on Tuesday night (19 November 2013).
This was the fourth meeting between Bafana Bafana and Spain; the World champions having won all three previous encounters – a World Cup match in Korea/Japan in 2002 and two 2009 FIFA Confederations Cup matches.
What was meant to be a celebration for the visitors turned to disappointment as a determined Bafana Bafana turned the applecart upside down.
At half-time President Zuma relived the lifting the of the World Cup trophy with Spain captain Iker Casillas on the pitch.
But that is where the celebration ended for Spain as Bernard Parker scored the only goal of the match shortly after the restart to hand Spain a shock defeat.
President Zuma led a huge delegation of dignitaries to the Bafana Bafana dressing room to personally thank and shake the hands of each and every member of the team.
South Africa's number one citizen was accompanied by, among others, former State President Thabo Mbeki, Minister of Sports and Recreation South Africa Fikile Mbalula, Minister of Justice and Constitutional Development Jeff Hadebe, Gauteng Premier Nomvula Mokonyane, President of the South African Football Association Dr Danny Jordaan, SAFA Vice Presidents Lucas Nhlapho and Elvis Shishana, SAFA CEO Dennis Mumble and several SAFA National Executive Committee members.
"Thank you very much for a fine win, you have made us proud as a nation. In my view you had more shots at goal and you could have scored more goals. You really deserve this victory. I am here to congratulate you because you have made the country proud. I am also happy that we had former President of South Africa Thabo Mbeki here to witness this historic victory, showing that we came out in full force to support you – which means you had no option but to win. Thank you very much for this performance, well done. It was absolutely wonderful watching you, the country is very happy. We are all proud of you," said President Zuma.