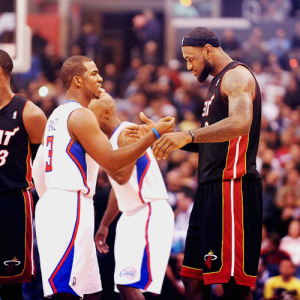 Miami Heat starters got the fourth quarter off for the second straight night in a 120-92 rout of the Orlando Magic.
LeBron James had 21 points, six rebounds and seven assists, and seven Heat players (not including James) made 3-pointers in Miami's fifth straight win.
Arron Afflalo scored a game-high 30 points for the Magic, who erased a 16-0 deficit but faded in the second half, giving up 120 points for the third time this season.
Chris Bosh had 18 points for Miami and James Jones led the three-point barrage, making 5-of-7 and totaling 17 points.
The Heat made its first seven shots of the game and nine of its first 12 3-point shots.
"LeBron came down (in the Heat's 36-point third quarter) and imposed his will on the game. A lot of times after halftime they make adjustments and they come out and get in fourth or fifth gear," Magic coach Jacque Vaughn said.