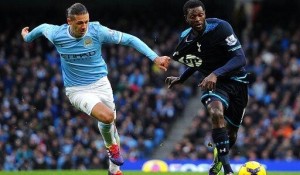 A shocking Sunday afternoon for Tottenham in the Premier League. Spurs were humiliated on the lawn of Manchester City. The Citizens have just scored 6 unanswered goals, thus imposing a historic defeat on the London club. An encounter that will affect the rankings.
And one should not be late for this game. As of the 14th second, Jesus Navas seizes a bad stimulus of Hugo Lloris to open the scoring. Manchester City recurs since Sandro scores against his camp after another blunder stimulus of the French goalie. Just before halftime, the Argentine Sergio Aguero sent the score to 3-0.
The return of Adebayor!
While he started the game on the bench, Emmanuel Adebayor made his first appearance this season from the restart. No significant impact as City continue their crazy game. Yaya Toure broke through the defense and serves Aguero for 4-0 . And it's not over. Tottenham lose control, the Citizens were very happy. Negredo scores at the 55th before Navas for his brace. Historic defeat for the spurs.
Check out the goals!
[youtube]http://www.youtube.com/watch?v=cbqUIM_xrdo[/youtube]