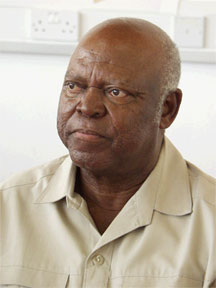 Ben Koufie, technical instructor of CAF (Confederation of African Football) is critical to the fact that only three local coaches could be found among the 10 African teams who clashed in the Fifa 2014 World Cup playoffs.
The wise man who teaches CAF's equivalent of UEFA's A licence, is stunned that only Nigeria of Stephen Keshi, Ghana of Kwesi Appiah and Ethiopia of Swenet Bishaw were led by local coaches and call for more African coaches at the top level in the years to come.
"This must change. Africa must own its own space if we are going to get the respect of the world," he said.
"Of the 10 nations who qualified for the World Cup play-offs only Ghana, Nigeria and Ethiopia have African coaches.
"We can only develop top quality players if we have qualified coaches, " he added.
Note that two of the three local coaches –Stephen Keshi of Nigeria and Kwesi Appiah of Ghana-who, played the playoffs happened to qualify their teams for next summer's World Cup in Brazil.
Only coach Swenet Bishaw of Ethiopia couldn't achieve his goal. But this shows that African coaches can get good hold the African football and develop it without help from any foreign coach.