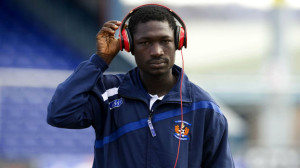 Midfielder Gabriel Reuben's up-call to the Nigeria squad ahead of the 2014 World Cup qualifiers despite his shelving at Kilmarnock this year, meant the astonishment of manager Allan Johnston of his Scottish-based club.
Even in the Stephen Keshi squad of Nigeria, Reuben was an unused substitute in their 2-o win over Ethiopia.
The player then unhappy with his status  at the national team, tweeted his frustration after the game.
The only man who could stand up and reprimand the player is his Kilmarnock manager Allan Johnston.
"There are other people in front of him that deserve to be there, and it is up to him to prove it differently," Johnstone said.
"You would be disappointed if they were happy not to play so that's a good sign that he is desperate to play.
"But at the end of the day, he needs to do more. And it's a bit silly to take it to Twitter."
This is big challenge for Reuben.