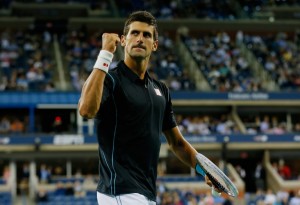 Serbia's No 2-ranked unbeatable tennis icon Novak Djokovic who beat the World No 1 Rafael Nadal during an exhibition match in Santiago, Chile, recently admitted the positive influence of tennis in his life.
The winner of the ATP World Tour Finals this year revealed that tennis has been his blessing.
Djokovic confessed that tennis has played a major role in his life and as he remembers times during the War in Serbia.
"War is something that no one would want, it's destruction, loss of loved people, families' ruin and a whole country that uses many years to become like it used to be. So it is inevitable to feel the consequences. But the positive aspect of war, if that's what we can call it, is that in this circumstance people get in touch, they gather to find the strength to overcome all. During war, everyone loses something, it's the worst thing that can happen, it's devastation. That's the reason why tennis has been my blessing."