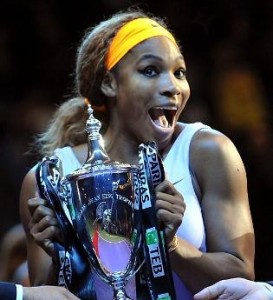 World No.1 Serena Williams had a stellar 2013 season and courtesy that, the American received the WTA Player of the Year Award for a Fifth Time.
American Serena Williams had an outstanding 2013 campaign, winning 78 out of the 82 matches she played. With 11 Titles including a couple of Majors, Williams was awarded the WTA Player of the Year Award for a fifth time.
Williams' 11 Titles were the most titles won in a single season since former No. 1 Martina Hingis in 16 years (12 in 1997), and her 78 matches won were the most since Kim Clijsters won 90 matches a decade back (2003). Only two other players have won WTA Player of the Year honors more times than Williams – Steffi Graf (Eight Times) and Martina Navratilova (Seven Times).