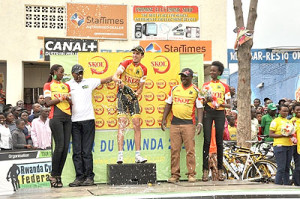 Already 3rd in 2011, 2nd in 2012, Dylan Girdlestone wins Tour of Rwanda 2013. In yellow from the 4th stage of the competition, the South African has finished up leader in the final round run Sunday in Kigali. A 94-km prologue that smiled at the Algerian Azzedine Lagab.
Winner of the 5th stage, Lagab made it again on Sunday, reaching the finish line ahead of countryman Hichem Chabane. France's Nicolas Lefrancois completed the podium of this stage.
This is the end of the 5th edition of the Tour of Rwanda that began on November 17. A competition that smiled at South Africans with two riders on the podium overall (apart from Girdlestone, Louis Meintjes is 2nd). Also an opportunity for the Eritrean Eyob Metkel to confirm his potential.