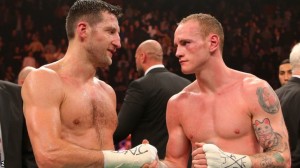 Africa Top Sports reported on Tuesday night's highly anticipated clash between England's boxing icons George Groves and Carl Froch in Manchester.
At the end of a crazy match, Froch controversially stopped the unbeaten run of Groves.
But Eddie Hearn, who promotes both fighters, said despite Groves suffering the first defeat of his professional career, he has announced himself as a genuine contender on the world super-middleweight scene.
The reason why the promoter may calls for the consideration of a rematch between both boxers.
"Everyone knew how talented George Groves was going into the fight but he'd never been at that level before," Hearn told Sky Sports News.
"There were question marks about how good he was and he showed how good he was.
"He was sensational last night. He emerged from this fight as the real star and of course now there will be a lot of pressure on the rematch."