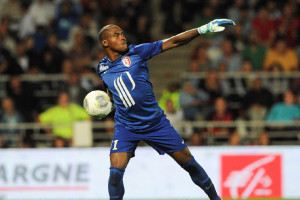 Nigeria's international goalie of France Ligue 1 Lille OSC Vincent Eneyama impressed once again during his side's 1-0 win over Toulouse at home at the Grand Stade lille Métropole on Sunday evening.
The sole goal for the Ligue clash was the achievement of Papa Souare in the 84th minute and the Super Eagles African champion goalie who just won the Ligue player of October Award did not concede till the final whistle of the referee.
Lille therefore rank second with 30 points after 14 matches behind leader PSG with 34 points.
Enyeama has not conceded a goal in 12 games over 14 so far this season.