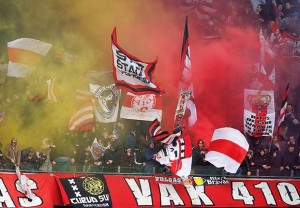 Fans become crazier when players score more goals.
Celebrating a decisive goal by Danny Hoesen as Ajax defeated FC Barcelona 2-1 during a Champions League clash Tuesday night, an Ajax fan was seriously injured at the head after felling about 5 metres from the south end at the Amsterdam Arena.
The man was rushed to hostpital a short while after the incident.
It was rumoured later that the man died but Amsterdam police denied the claims.
"No update about the fan who fell at the ArenA during Ajax-Barcelona. Rumours that the fan has passed away are not correct."
[youtube]http://www.youtube.com/watch?v=DbQZSSsZHXY#t=87[/youtube]