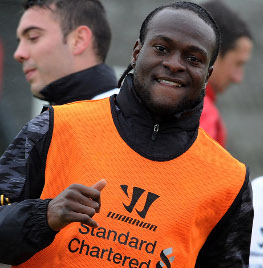 Africa Top Sports reported earlier that Nigeria's international winger of English Premier League Liverpool just won the Nigeria Footballer of the Year Award at the Nigeria Football Awards held on Tuesday.
Moses, after being bestowed such a big award could not help expressing his joy. Twitter was the right means for the winger to say: "Proud and honored to win the Nigerian Footballer of the year award for 2013.
"Is a dream come true to play for my country so thank you every1."
The 22-year-old represented England at Under-16, 17, 19 and 21 levels, before choosing to play for Nigeria at senior level.
Chelsea striker Obi Mikel was bestowed the Sports man of the Year award while sprinter Blessing Okagbare took pride in her Sports Woman of the Year award.