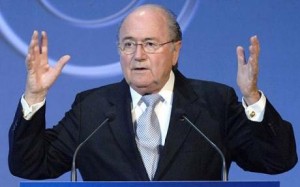 Africa Top Sports already reported on the urgent safety check being carried out on the World Cup stadium in Sao Paulo after the death of two construction workers following an accident in the premises on Wednesday.
FIFA President Sepp Blatter just expressed his sadness following this tragedy via twitter that he was "deeply saddened" by the deaths.
"The safety of workers is the top priority for FIFA, the LOC, and the federal government. We know the safety of all workers has always been paramount for all the construction companies contracted to build the 12 FIFA World Cup stadiums. The local authorities will fully investigate the reasons behind such a tragic accident," FIFA added in a statement.