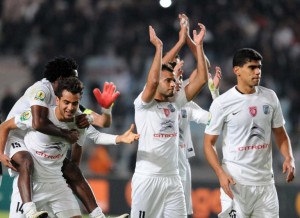 Tout Puissant Mazembe will wait to hang the only trophy that still lacks in their great achievements. The Congolese club could not achieve the feat to turn the tide in the final of the Confederation Cup CAF (Confederation of African Football) after their defeat in the first leg 0-2.
Yet all started well for Tunisian Club Sportif Sfax (CSS) in their Kamalondo stadium in Lubumbashi. From the 10th minute, the Malian Cheibane Traore opened the scoring and put to boil an entire city. There is only one team on the field and Mazembe multiplies opportunities. Sfax is cornered and concedes errors. In the 24th, Mbwana Samatta doubled the lead for the formation of Patrice Carteron. One wonders then how this trophy will escape Mazembe who never loses at home.
Ben Youssef silenced Lubumbashi!
In one half, the Ravens had their delay leg and had only one goal to achieve this goal for domination on the game. The second half-time was the image of the first. Total domination of TP Mazembe which became very awkward. Tresor Mputu , Samatta , Solomon Asante and Ulimwengu brokethrough the Tunisian defense in vain.
Doubt therefore installs in the men of Carteron. We play the 87th minute. Through a corner of CS Sfaxien, Ben Youssef forgotten at the second post put in a header. Robert Kidiaba could do nothing. Kamalondo is Stadium boiled. The hosts will have to score 2 goals. They lost after 5 additional minutes.
Sfaxien win their 3rd coronation of the Confederation Cup.