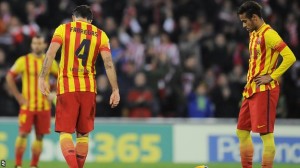 Two defeats in a row! It was a long time that FC Barcelona had known such statistics. It is now the case. After losing to the Netherlands in midweek in the Champions League against Ajax, the formation of Tata Martino is again inclined in La Liga on Sunday.
This time it is Athletic Bilbao which has beaten Neymar and his teammates. Deprived of Lionel Messi injured until January, Barcelona suffered in the Cathedral of San Mames but at the break, the two teams were tied 0-0.
On resumption, Iker Munian scored the only goal of the match on an action carried out efficiently. at the rear, Pinto saved his team on a head of Toquero.
Despite a last attack by Neymar, the score will not budge.
Check out the shock!
[dailymotion]http://www.dailymotion.com/video/x17vgy5_muniain-1-0_sport[/dailymotion]