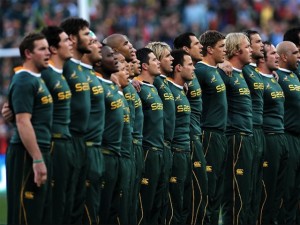 The stage of the Dubai Sevens World Series has not smiled at the African teams. Bowing 17-29 to Fiji in the final of the tournament, South Africa rose ready for the supreme consecration. Kenya on the other hand is tilted in the semi-half 24-19 to Wales.
In the World Tour ranking, South Africa is 3rd with 34 points while Kenya ranks 6th Kenya with 22 points.
Next stage, December 7 and 8, 2013 in Port Elizabeth, South Africa. Africa will be represented by, South Africa, Kenya and Zimbabwe.
Complete results of the African representatives
Preliminaries:
Kenya 10 Portugal 07
Kenya 14 France 05
Kenya 0 New Zealand 40
South Africa 34 Russia 05
South Africa 26 Samoa 05
Semi- final Plate
Kenya 19 Wales 24
Semi-final Cup
South Africa Cup 26 England 12
Cup final:
South Africa 17 Fiji 29