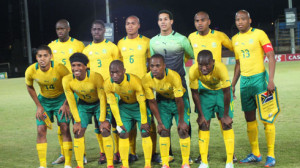 According the official website of the South African Football Association, the South African Men's Under 20 National Team, Amajita, has arrived safely in Maseru where they will take part in the 2013 COSAFA Under 20 Youth Championships.
Amajita arrived in the Mountain Kingdom on Sunday afternoon (01 December 2013) to continue with preparations for the tournament.
In their opening match, South Africa will face Seychelles on Wednesday (4 December) at the Mafeteng Stadium.
Kick-off is at 14h00.