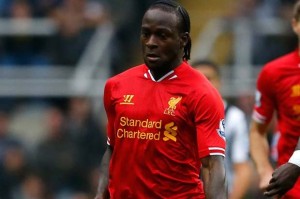 Nigeria international striker of Chelsea currently on loan at Liverpool Victor Moses who has not scored for his club since September is asking his bosses to retain confidence in him and confided his target of 20 goals to be scored this season.
The Nigerian Footballer of the Year 2013 just said it on the club's official website.
"I just want to score goals. I wanted to score around 20 goals this season," the 22-year-old told the club's website.
"We've still got lots of games to go, so hopefully I can get up to that target. I think I've got the ability to do that so I'm looking forward to every game.
"I want to keep working hard in training and doing what I'm good at, which is working hard for the team. When I first came, I was starting.
"Now, the manager has got a different view and he wants to mix things around a little bit. I just have to be patient until my time comes. I'll kick on from there and help the team," he added.