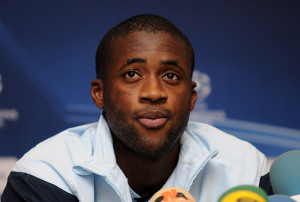 The major European football clubs interested in Yaya Touré get to see elsewhere. The Ivorian striker hopes to finish his career at Manchester City.
In an interview with English sports newspaper The Daily Mirror, the Ivory Coast international has first expressed his gratitude to Manchester City for the confidence that they had in him.
"When you have the respect of fans, it's hard not to be happy. I respect the manager, I 'm the vice- captain. Fans chant my name all over the world. When I meet fans, they ask me " How are you ? What about your family ," he has indicated before continuing :" How would I want to leave all this? The club has confidence, renewed my contract gave me even more confidence, showed me that they wanted me to enroll in time. I want to finish my career here and do a lot of things for this club. I played in many big clubs, but what City and their fans have given me is just huge. "
Thank you Manchester City!
For Yaya , finish at Man City is a form of gratitude for all that the club has brought him good. Moreover, he even believes that no other club would offer him that.
" I have to offer them that. I would never find another club like that and that is why I consider my work here beyond what happens on the ground, he promises. I try to set an example for the youngsters of the training center. I talk to them and give them advice. We won the Premier League and FA Cup, but I want to help change the image of the club permanently, so that people finally see it as a big club. Champions League would be a huge step forward for which the club and the players work hard. We want to write an amazing history. "
Key player at City, Yaya Toure has recently extended his contract until 2017 for an annual salary of 13 million Euros.