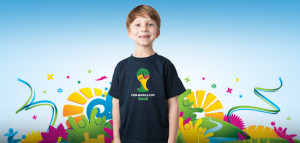 After having unveiled the official match ball of the 2014 Fifa World Cup Brazil, the kids' T-Shirt for the mass competition is now made known.
If you are planning to attend the Brazilian lawns with your beloved kids, you had better rush and get the nice dark blue small T-Shirts (on photo at the right) designed for kids. Otherwise they will spend a good time on the stands admiring other children.
Africa Top Sports wishes you good preparations for World Cup 2014.